Canon in D by Pachelbel is a famous classical piece of music that's well-known among a broad audience, seeing as it's often used in wedding ceremonies. 
However, we often hear from musicians, violinists and cellists, in particular, that they hate the piece. But why? 
In this post, we discuss why Canon in D is hated by a lot of musicians, especially violinists. We also shed light on why the piece is so popular and whether or not it's hard to play. Stick around!
Summary 
The main reason why violinists and cellists, along with other musicians, dislike Canon in D is that it has been overplayed to the point that it has become boring for musicians to play. It is also extremely repetitive and basic to the advanced musician.   
What Does the Violin Do in Canon in D?
To understand what the violin does in Canon in D, you need to know what Canon means first. Canon is a type of composition that is an imitation-based piece. 
There's the lead melody, which is stated at the beginning of the piece. Then, one or more players follow along with the imitative melody. 
The imitative melody can be a repetition of the original with no change or it can have some changes, such as changing the pitch, reversing the melody, or making the notes longer. 
In Canon in D, three violins play this imitation game. 
The first violin is what plays the leader melody. The second violin plays the exact same melody but is delayed a couple of bars. 
The third violin also plays the exact same melody as the original, but this time four bars delayed. So, throughout the whole song, each violin is playing its part repeatedly in a round. 
A round is when the imitation parts are identical to the original part but each part starts at different times. This is considered the simplest form of canon.
There's also an ostinato in Canon in D, which means that the same bass line is repeated throughout the whole song with no change. This part is usually played by a cello.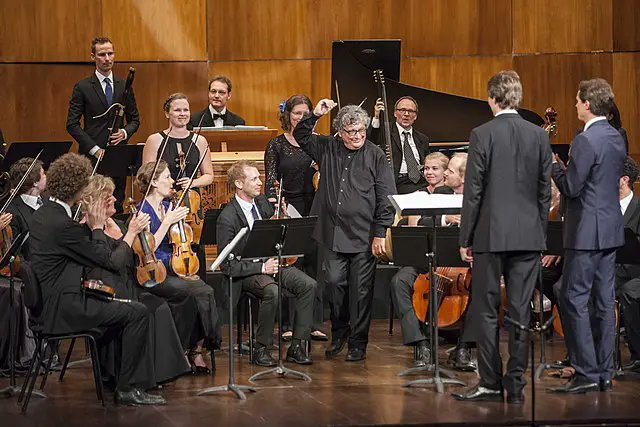 Who Composed Canon in D?
Johann Pachelbel composed Canon in D. He was a famous German composer and organist in the late 17th century, the Baroque period. 
He composed more than 500 pieces that we know of. This is a huge achievement for any composer. 
Pachelbel composed many pieces for the church. His innovation and unique music style influenced many of whom came after him, such as JS Bach, George Frederick Handel, and Antonio Vivaldi. 
Canon in D is the most famous music piece for Pachelbel and it's the only canon he composed. 
If you like his Canon in D, you might appreciate Pachelbel's other work, such as:
Fun fact: Johann Pachelbel was Johann Christophe Bach's teacher. Then, JC Bach passed down everything he's learned from Pachelbel Johann Sebastian Bach, his younger brother. 
Why Is Canon in D So Hated?
The answer to that question depends on whether you're a listener or a player. And if you're a player, which instrument are you going to play Canon in D on?
If you're someone that just appreciates classical music and has a good ear, then I'm pretty sure you don't hate this song. You're probably just bored of hearing it. 
Of course, you've heard Pachelbel's Canon playing in weddings when the bride walks down the aisle. We all agree that it's overused. 
We hear it everywhere, not just at weddings, but also at parties, in relaxing music playlists, and more. However, for players, it's far more than just being a cliche and an overused piece. 
For a cellist, playing Canon in D is torture. The cellist is literally repeating the same eight notes throughout the entire piece with no variations. While for violin and viola players it's a bit better. Concert musicians are extremely talented and capable of playing far more challenging pieces of music. 
The variations that we enjoy listening to travels through the viola and the violins, leaving the cello stuck playing the same notes over and over again. It's just not challenging or fun for cellists.
Also, because it's a popular piece, it's easy to notice any mistakes or changes in the music, which can be pretty annoying for the lovers of this piece. 
Is Canon in D Good Music?
Canon in D is very well-known classical music for good reason. It's one of the greatest Baroque pieces ever composed. The piece is intelligently written and the beautiful melodies stick in listeners' minds. 
Although Pachelbel uses one melody that is repeated throughout the entire piece, he was able to create individual scenes. You can hear different sections in the piece and even a solo for the third violin. 
This illusion of a multi-sectional work is created by using the figuration and the range of the instruments. This isn't something that's easy to create. Canon pieces, in general, aren't easy to compose.
Some might argue that Canon in D is too simple and that other great pieces are more complex and difficult to play. But true musicians understand that simplicity isn't something easy to craft and achieve when it comes to composing music. 
The biggest thing that proves the greatness of Pachelbel's Canon is that the same chord progression has been used many times in modern pop music. 
What Is So Special About Canon in D?
Canon in D is one of the most popular pieces of music from the Baroque period. It's the only canon piece ever written by Pachelbel. 
Classical music isn't appreciated as mainstream as it was in the past. However, Canon in D is still popular and loved by many. 
Even those who know nothing about music just love listening to this piece. And this is all because of its simplicity. 
The piece is simple and delicate but subtle. Because of how simple it is, the audience gets it immediately and engages with it right away, no matter what type of audience it is. 
This is something that you don't usually get with classical pieces. Gradually the variations change and the complexity increases. You just sink into the effortless variations of this piece. 
Canon in D also has a special place in many's hearts because of its religious connections. The music piece isn't religious, however, Pachelbel is known for his religious music. 
Is Canon in D Hard to Play?
It's not recommended to learn Canon in D as an absolute beginner. It's too early for beginners to start vibrato. 
You might find some music teachers teaching Canon in D for beginner violinists. However, it's an intermediate to advanced level piece. Although the technical skills required to play Canon in D are relatively low, in order to play the piece beautifully the player needs to be advanced. 
On the other hand, Canon in D can be a beginner piece for cello players. When it comes to piano players, it depends on which arrangement of Canon in D you want to play. 
A pianist could play the cello and two melodic lines simultaneously, like in the video below. The coordination required here is complex: 
Why Canon in D Is So Popular?
Canon in D was forgotten for more than 300 years. In the late 20th century, the classic piece gained a lot of popularity, especially after it was included in the four academy award winner movie, the Ordinary People in 1980. 
It was then included in many film and television soundtracks. Later on, it became stable in all weddings. 
We don't know how it became associated with wedding celebrations. Some people think that it might be because it's thought that Pachelbel wrote this piece for Johann Christoph Bach's wedding, which was Bach's brother.
What Songs Use Pachelbel's Canon?
You might be surprised how many pop songs use the same chord progression as Pachelbel's Canon in D. This chord progression is known as the circle of fifths. 
Here's a list of the most common songs that use Pachelbel's Canon:
Memories by Maroon 5
In My Life by The Beatles
Basket Case by Green Day
Go West by Pet Shop Boys
Graduation by Vitamin C
All Together Now by The Farm
Life Goes On by 2Pac
Hook by Blues Traveler
Cryin' by Aerosmith
Graduation by Benny Blanco and Juice WRLD
Tear by Red Hot Chili Peppers
C U When U Get There by Coolio
Ladies and Gentlemen We Are Floating in Space by Spiritualized
Streets of London by Ralph McTell
Anthem of the USSR from 1944 to 1991
Don't Matter by Akon
Check out this fun video of the 'Axis of awesome' performing their '4 chord song' which is the same progression: 
The Wrap-Up 
Hated isn't the right word to describe what might be the greatest canon piece of all time. Even after hundreds of years since it was composed, Canon in D is still appreciated and played by many. 
It's a great piece that makes our emotions sink with the violin variations. However, because of its popularity, it's being overused.
Musicians who often perform it at weddings have all the right to get bored of it, especially cellists who have to play the same exact eight notes repeatedly throughout the whole song.