Being interested in the violin shouldn't just mean you enjoy playing the instrument. Learning about the great violinists who achieved mastery or about the intricacies of violin-making can help you appreciate the instrument even more. 
That's why we've compiled a list of the best violin documentaries. Ranging from biographies of contemporary violin virtuosos to the stories and secrets of the greatest luthiers of all time, you're guaranteed to find something you'll enjoy.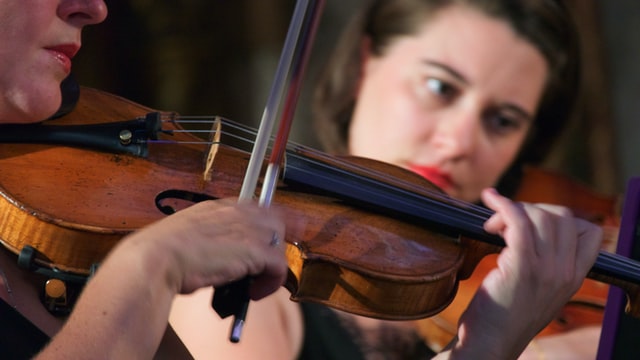 1. The Art of Violin (2000)/ By Bruno Monsaingeon (IMDb)
This documentary is touted as the greatest film made about the violin. It comes in two parts, the first of which is called "The Devil's Instrument" and the second is named "Transcending the Violin."
The opening montage sent shivers down my spine. It's a mashup of five different soloists playing the Mendelssohn Violin Concerto, emphasizing the individuality of each performer and how they all sounded different
The documentary showcases performances by the master violinists of the 20th Century. There's also a segment discussing the two greatest luthiers of all time: Stradivari and Guarneri. 
They show just how different their instruments sound by playing small pieces on the violins, which date back as far as 1699.
The quality of this film varies from shaky images from as early as 1912 to clean modern footage, but all in all, it's a must-watch!
2. From Mao to Mozart: Isaac Stern in China (1979)/ By Murray Lerner (IMDb)
This Academy Award-winning documentary follows the violin master Isaac Stern as he visits Maoist China in the 1970s. He was the first American (or Western) musician to collaborate with the China Central Symphony Society (now China National Symphony Orchestra). 
He's captured on film at the beginning saying the visit was more about the "how do you do"s than it was about playing the violin. However, the impact of the music on the people of China was nothing to make light of.
Under the cultural revolution, Chinese people suffered the loss of much of their identity, besides the atrocities committed against them. To be able to communicate through music and create art and beauty out of that suffering was no small feat.
A moving, engaging film that shows Isaac Stern doing what he did best: playing music.
3. God's Fiddler: Jascha Heifetz (2011) (IMDb)
Jascha Heifetz is the first modern violin virtuoso. Born in 1901 in Imperial Russia, he migrated to the west when he was a teenager, barely escaping the revolution.
He was a child prodigy, and his own professor, Leopold Auer, declared him a student of God. This analogy seems to follow him since Itzhak Perlman said that the first time he met Heifetz at 14 years old, he felt like he was talking to God.
Heifetz had an aloof, calculated air about him, but that doesn't mean his performance style was cold. On the contrary, his passion for playing showed in getting the smallest intricacies right, and his impeccable style, though reserved, was always heartfelt and sincere.
Jascha Heifetz was also the subject of an episode of American Masters on PBS, similarly titled Jascha Heifetz: God's Fiddler. It was released in April 2015.
4. I Am The Violin: Ida Haendel (2004)/ By Paul Cohen (Synopsis)
Known for her lively, emotive performances, Ida Haendel started out as a child prodigy at just five years old. Her long, illustrious career spanned seven decades until her death in 2020.
She was born in Chełm, Poland in 1928, and left for London in the 1930s to study under Carl Flesch who took interest in her talent. During WWII, she supported the war effort by playing for British and American troops.
Later on, she had an active performing career and received many accolades throughout her years performing. However, she never had a tendency of taking herself too seriously. As you will see in the document, the passion she had for the violin was expressed in her energy and vitality.
5. Ivry Gitlis And The Great Tradition (2004)/ By Tony Palmer (IMDb)
Yitzhak-Meir Gitlis was born in 1922 to Ukrainian Jewish parents. Being a child prodigy, his teacher arranged a fundraiser for him to go study in France at eight years old.
What followed was a long, interesting career. He performed for the WWII Allied troops in the 1940s, and with John Lennon, Eric Clapton, Keith Richards, and Yoko Ono in the 1960s.
He acted in a few films in the 1970s and toured Japan, where he had a lot of popularity. Ivry Gitlis was designated a UNESCO Goodwill Ambassador in 1990.
Most of all, he kept a lighthearted demeanor and a lot of joie de vivre. A true master.
6. Itzhak Perlman: Virtuoso Violinist (1978) /By Christopher Nupen (IMDb)
Itzhak Perlman picked up a toy fiddle at an early age and never looked back. He went on to study at Julliard at 13 years old and has been a staple in American classical music circuits and a pop culture icon.
He met and played for some of the greats, like Jascha Heifetz, and played on late-night TV, as well as in sports stadiums. 
He also performed as a soloist on the Academy Award-winning original score of Schindler's List and Memoirs of a Geisha.
He's still active to this day, despite his early polio infection that limits his movement. He has received four Emmy Awards and 16 Grammy Awards, including a Lifetime Achievement Award, as well as a Presidential Medal of Freedom.
7. Yehudi Menuhin: Who Was Yehudi? (2016)/ By James Maycock (IMDb)
This is another violin virtuoso who had his professional debut at the tender age of 7. Yehudi Menuhin had a unique style of playing and inherent superstardom that made him worthy of several movie appearances during Hollywood's Golden age.
His long career spanned most of the 20th century, where he performed alongside masters and entertained thousands even as a young child. 
He was even appointed to the Order of the British Empire (KBE) in 1965, even though he was an American citizen at the time.
He ended up being one of the most decorated violinists in history, leaving a legacy that even inspired the 1930/40s catchphrase, "Who's Yehudi?"
8. High Fidelity: The Adventures of the Guarneri String Quartet (1989)/ By Allan Miller (IMDb)
The Guarneri Quartet's roots date to the 1964 Marlboro Festival, where David Soyer, John Dalley, Arnold Steinhardt, and Michael Tree appeared individually. They agreed to form a string quartet, taking their name from the famous Italian family of violin makers.
Their unique approach to performance included letting people see what's behind the scenes, their rehearsals, relationships, and fallouts. 
This is what the documentary discusses in detail as they collaborate with the same filmmaking team behind From Mao to Mozart.
The film is raw and emotional at some points, but it offers a glimpse of what it's like to work and live together as musicians. Though not exclusively about violins, it's still a compelling viewing experience.
9. The Secret Of The Violin (Amati-Stradivarius-Guarneri) (IMDb)
If you're also marveling at the silvery tones of a Stradivarius, wondering where that quality comes from, this film is for you. Everything is discussed here, from the wood to the plans and the aging those amazing instruments went through.
It also covers the discovery of the Stradivarius, and how it turned into an investment in the latter decades of the 20th century. 
It also follows the case of an international instrument broker, who became criminally involved in fraudulent deals. A very interesting film!
10. Joe's Violin (2016)/ By Kahane Cooperman (IMDb)
This 2017 Oscar-nominated short documentary follows the story of Joseph Feingold. He's a Holocaust survivor who donated his violin, which he bought in a displaced persons' camp, to a New York City musical instrument drive.
This heartwarming story shows you how the power of art and music can transform lives. The violin was a symbol of hope for Joe when he was living as a refugee, and now it can go on to change the life of a child from the least privileged areas of New York.
11. Strad Style (2017)/ By Stefan Avalos (IMDb)
This is a change of pace for this list, but it's a hilarious rendering of a pretty amazing experiment done recently. It follows Danny from Ohio, who sets out to copy the violins made by the masters of the 16th century and says no one will know the difference.
The documentary shows that our biases sometimes lead us to believe things are more valuable than they are. So, if you're a huge Stradivari, Guarneri, or Amati fan, maybe take this with a grain of salt.
Conclusion
The violin is an enchanting instrument that has had its time to mature and capture the hearts and minds of everyone with an ear for music. That's why it keeps inspiring people to explore the depths of its beauty, creating timeless art that's both entertaining and magical.
We hope you enjoyed this list of the 11 best violin documentaries! We tried to cover everything, from the biographies of modern virtuosos to the deep dives into violin-making, all the way to international crime and double-blind experiments. So, there's something for everyone!